To finish off my travels in 2014 I went out with a bang, spending eight days onboard the Viking River Cruises longship known as the Viking Delling. Beginning in Nuremberg, Germany and finishing in Budapest, Hungary with stops in Vienna, Austria and other spots along the way this tour is known as the Romantic Danube cruise. What made it even better however was that it was December, so a bit chilly yes but pretty much everywhere we stopped had gorgeous Christmas markets to celebrate the season, full of great traditional foods to eat, gluwhein to drink and presents to buy.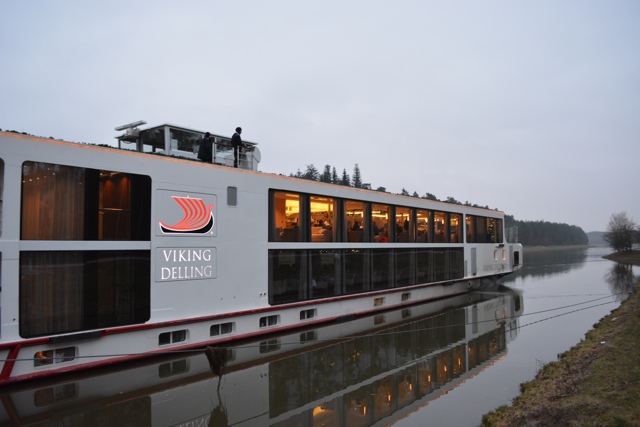 This was technically my second river cruise, with my first being on the Zambezi Queen on the Chobe River in Southern Africa the year before, however that was only on a 20 passenger houseboat. So I suppose this was my first "full sized" river cruise. Coincidentally I had also just been on my first Ocean Cruise a couple weeks before, perhaps I'm turning into a professional cruiser now? It was interesting to compare the River Cruise VS Ocean Cruise, but I'll save that for another blog post.
Walking Tour in Nuremberg, Germany learning about the Hindenberg Blimp and Hitler
Our tour began in Nuremberg, Germany where we spent the night and had the chance of visiting the town and Christmas markets twice. Each day on the cruise we started with optional walking/bus tours included in the cost of the cruise, which were a great way to learn about the new port of call and also to get your bearings for your own exploration. Sometimes we were docked right in the city like in Budapest or other times we were a bit further out, but they had included bus transfers at varying times so you could maximize your time exploring. There were so many things to do and eat on the ship however, that sometimes it was actually tough to decide to get off the ship or not.
The sausage lady of Regensburg, Germany
On the third day we made our way to the small town of Regensburg, Germany. Our day began with an informative walking tour and then we had time to explore another cute Christmas market, shops, and my favourite stop the Historic Sausage Tavern. The main cook was a curmudgeon-ey old German lady who makes over 6,000 sausages a day in this small building at the river's edge that has been there for 900+ years. They were delicious.
FaceTime with my mom in the Passau Christmas market
Passau, Germany was our next stop along the Danube and most likely my favourite place we visited, along with Budapest. In Passau we docked right next to the small colourful city and began with a walking tour, then we had lots of time to explore, and get lost a bit, like I did unintentionally. Their town square where the Christmas market was set up even had a wifi connection so I was able to FaceTime with my mom who was suppose to be on the trip with me and I got to show her around the market. You gotta love technology these days.
Walter Simon Jr. teaching us how to make traditional gingerbread
A popular stop in Passau is the Simon Cafe which serves up some of the best chocolates, truffles and cakes. When we visited we got to learn about making gingerbread, as they are home to the oldest gingerbread recipe in all of Germany and we of course also got to sample a few pieces of it. They also showed us how to make our own advent wreaths.
The BEST  pretzel of my life
As I wandered around I also came across this food truck that was selling pretzels, (when in Rome) and I had to get one. However this pretzel was different, the lady cut in half horizontally and cut off a HUGE piece of swiss cheese from the largest wheel of cheese I have ever seen in my life and sandwiched it in the middle of the pretzel and sprinkled it with some kind of salty seasoning. Whatever the heck this was, it was mind blowingly delicious and all pretzels from here on out will be subpar in comparison.
Hot chocolate with a shot of alcohol on a chilly day in Melk, Austria
On the fifth day of our river cruise we finally made it to our second country of the trip as we stopped in Melk, Austria. Melk was most likely the smallest of all of the places that we visited on the tour and its main attraction was the Melk Abbey, home to the Benedictine Monks. We toured the abbey then wandered the streets and found a cute cafe that felt like we were sitting in our German grandma's house. (For future schedules it looks like Melk might be replaced with another stop on this trip.)
Scenic views on the Danube River between Melk and Vienna
Vienna was the following stop in Austria and the part of the river Danube that stretches between Melk and Vienna was the most beautiful and scenic of the trip. Purposely they also plan this part of the cruise to be in the afternoon so it is daylight and everyone can enjoy the views on the top deck.
Love me some gluwhein
We started the day in Vienna with another walking tour, honestly to me though Vienna felt kind of "meh". Maybe it was the dreary winter weather, I'm not sure. Other people rave about Vienna, perhaps I just need to spend more time there. I did of course enjoy the Christmas market and it's gluewhein.
A chamber orchestra performance in Vienna
The cruise includes many activities on and off the ship and there are also a few optional excursions that you can pay for that are a bit extra. In Vienna that night there was an optional excursion to see a Chamber Orchestra in one of the zillion Palaces in the city. Vienna and music go hand in hand so it's hard not to miss and it was a nice activity to do and also included a glass of champagne, can't beat that.
That evening as we dined on the ship we passed through Bratislava, Slovakia however unfortunately we didn't get to make a stop to visit and we continued onwards to Hungary.
I was excited to get to Budapest as I had never been to Hungary before, however I was sad that it meant that our tour was soon ending.
The Viking Delling and Viking Odin docked together under Budapest's Chain Bridge
We docked right in the center of the city under the Chain Bridge that connects the Buda side to the Pest side, not far from the "Shoes on the Danube Bank Memorial" which was extremely moving and heartbreaking.
Delicious Hungarian Goulash served onboard
Our tour in Budapest seemed to cover a lot more ground than the others. We drove all over the Pest side and then drove over to the Buda side where we got out and walked around Buda Hill and got a great view of the city from the Fisherman's Bastion. As soon as we were told we had free time I ran to the closest liquor store and bought a tasty bottle of Tokaj, a Hungarian sweet wine and it was amazingly delicious. For lunch back on the ship we were served a tasty Hungarian goulash and then I spent the rest of my full last day wandering the covered market and Christmas market.
In the morning I said bye to the ship and amazing staff onboard and jumped in my bus transfer to the airport. Note to self, visit Budapest again. Soon.
To see a highlight reel from my trip check out my newest video:
Onboard the ship while we were sailing down the river we also did a lot more than just sleep in our comfy beds. We learned about each city we were visiting with informative presentations, made gingerbread houses (tis the season), were entertained by a pianist, Opera singers, and Austrian musicians. We had an Austrian themed night, had tours of the kitchen and wheelhouse and a lot more. I'll save all of that however for my next video.
To learn more about the Christmas markets we visited and tips for visiting Christmas markets in Europe, click HERE.
Have you ever taken a Viking River Cruise? What was your experience like? What did you see and do?
While cruising on the Viking Delling I was a guest of Viking River cruises however all experiences, opinions and views expressed are my own as always.