Throwback to film school in 2006
When I started making travel videos and blogging back in 2009 I didn't know what the heck I was doing. I had made films and taken courses since the age of 15 on everything from 8mm and 16mm film cameras to the newest and greatest in digital technology available at the time. I even majored in Film in University. I personally had the technical skills behind me however adding my videos to YouTube, starting my blog and promoting them on social media was all new to me. In actual fact I can remember thinking "What are blogs? They sound stupid. Why would anyone want to read someone else's diary online?"
Today however is a different story and I'd like to proudly consider myself as one of the first of many travel video bloggers out there. Over the past few years I have built my brand and blog, traveled to 43 countries, have taught video tips at the BlogHouse and have spoken about travel video blogging at WTM, one of the largest travel conferences in the world.
As I travel, blog, and make videos I am constantly being asked by many people why I chose to do this, how I started, where should they start, what cameras should they buy and many other countless questions. Many of these answers are relative and change depending on the technology available, and always my answers are of my own personal opinion and experiences. Aside from directing people to Lynda.com tutorials on youtube or the ebook "Video 101" by my friend Lisa Lubin I haven't really had anywhere to direct people to a large amount of comprehensive info to get them started. Aside of course from the old suggestion of  get out there and do it, practice makes perfect.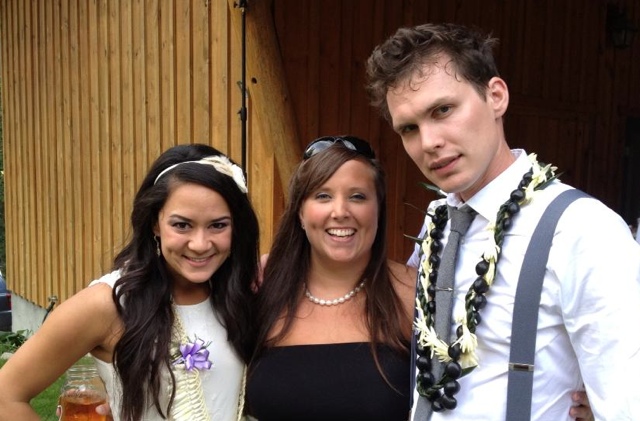 Celebrating Chris and Tawny's wedding
This past month however that all changed, when my friends David and Michael of Travel Blog Success announced their "Videography for Travel Bloggers" course created by my close friends Chris and Tawny of "Captain and Clark". I am excited that there is finally a resource that I can point people to and thankfully they let me take the course myself so I could review it for you and help you decide if it is the right thing for you or not.
Personally I would call this course "Travel Videography for Beginners" as it lays out all of the very basic things that are important to know when you are first beginning. The course features tips on everything from which camera you should be looking at to buy, to telling you the different types of videos that are made, and it even lays out things like the rule of thirds, good composition and what different shots are called. Everything is in great detail and explained in layman's terms that anyone could understand whether you have a previous knowledge of filmmaking or not. It was also a great overview for me and brought me back to my days at film school.
A screenshot of a video narrated by Chris giving tips on how to achieve the Bokeh Effect in your videos
Throughout the course there is a lot of text to read but also a good use of images and the important thing, videos. These videos show you in detail not only the types of travel videos that are made but also how to do specific things that they are teaching you in the course like the above, Bokeh Effect. If at any point you have any questions about something that you have learned TBS has also set up a Slack chat where you can ask Chris and Tawny questions directly, as well as interact with others taking the course along with you.
The course is also filled with nice interesting and inspirational quotes from popular filmmakers
One thing I like about how TBS has it set up is also that once you purchase the course you are given all of the lessons right away so you can go through it at your own pace and you can jump around lessons and topics that you think you might know already. You also will always have access to the course incase you ever want to go back for a refresher.
To get an idea of what the course is like they have offered up the "Selecting a Camera" lesson for free so you can take a peek into what the course is like.
The selecting a camera lesson gives a great overview of the different cameras available and their pros and cons, from a point and shoot to a DSLR. However as I went through the course many of the camera specific lessons were definitely geared more to the DSLR user as that is what Chris and Tawny themselves use and highly recommend. I personally use one as well and it works great for my videos and what I want to do. My DSLR of choice is the Nikon D5200.
As the course goes on and you learn and progress, it moves from being basic into more advanced learning. Topics include selecting the right audio equipment, creating voice overs for your videos, special effects and more. If I reveal anymore of what is in the course however they might real life unfriend me, so lets not have that happen.
From my understanding the course is growing and new things will be added. I personally would like to see more about shooting with an iPhone/smartphone and the various apps and tools that are available like hyperlapes and slow-mo.  It would also be nice to see a video about on camera coaching for you, yourself to feel more comfortable being on camera.
I haven't personally seen anywhere else on the internet where all of this great comprehensive info can be found in one key place. Chris and Tawny have done a great job laying out all of their knowledge in this course. As mentioned above, with purchase of the course you also get direct access to them through the Travel Blog Success chat room and they are there to help you, should you have any questions or concerns along the way, which is more than ideal and extremely valuable in and of itself.
If you are starting out in travel video blogging, or you think that you might want to give it a try to bring your blog to a whole other level then I highly recommend checking out the "Videography for Travel Bloggers" course. Sign up today, HERE.
Have you taken the course? What did you think?
If you are also interested in signing up for the Travel Blog Success course to take your blog to the next level it is on sale 30% off from April 13th, 2015 to April 17th. Click HERE to learn more. 
***AMAZING DEAL** This week only, if you buy both a TBS membership and the new videography course, you'll pay just $485.00, a savings of $159. Not bad if I do say so myself. Happy learning!