While staying at the Villa Del Palmar resort in Loreto a couple months ago aside from just laying by the pool my friends Ayngelina, Rease and I participated in some fun activities like aqua aerobics, dance classes, wine tasting and we also got to take part in a cooking class. In our cooking class we learned from Chef Manuel how to make Ceviche a popular seafood dish most commonly made in the costal areas of Mexico, Central and South America.
Previous to this trip I hadn't even heard of Ceviche let alone tried it or knew how to make it so I was eager to learn and surprised to see just how quick you can make it. With just a few simple ingredients and no cooking time you can see in my video that Ceviche is something almost anyone can make.
The Chef made our Ceviche with a white fish called Cabrilla, however there are many other white fish that you could use if that is not available and
you can even choose to make your Ceviche with shrimp
. In this version Chef Manuel also chose to mix in mint and papaya but in other instances you might use tomato and cilantro.
Here is how to make our Ceviche: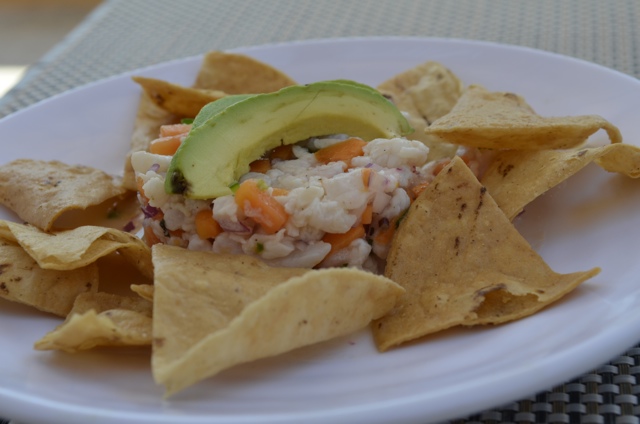 Ingredients
1 lb firm white fish, chopped into 1/4 inch pieces
5 lime, juiced
1/3 cup red onion
1/4 cup papaya, chopped (can also use mango)
1/4 jalapeno
1 tbsp mint, chopped
1/2 tbsp salt
pepper to taste
1 avocado for garnish
Directions
1. Mix finely cut fish with lime juice.
2. Add salt, pepper, mint, onion, papaya, jalapeño and mix
3. Garnish with avocado and serve with tortilla chips
Have you ever tried Ceviche before? What did you think?
Photographed and filmed with a Nikon D5100 using a 17-55mm lens.