Before visiting Prague I was admittedly worried about the type and quality of food that I might come across. All I knew was that they had pretty good beer that was quite cheap, but also that goulash was quite a popular dish. Eating goulash for the entirety of my trip didn't sound that appealing. However of course once I stopped being so closed minded and arrived in Prague I was surprised to find some great food. Not only did I find some great food, but I found some of the best food that I have ever eaten on my travels. Food so good that I am considering even living in Prague for a few months just to enjoy even more of it.
If there is popular and good food in a destination then I can't visit without trying it. Over the years I have also become a firm believer that one of the best ways to see a destination is through your stomach so I have become quite the fan of food tours. I was excited to learn that Eating Europe (whose tours I had also taken in London) had a tour in Prague as well and I couldn't wait to take it.
One of the best gingerbread shops in all of Prague
Our tour began at a gingerbread shop. I had, had no idea that it was popular in Prague / the Czech Republic. Also known as perniky or lebkuchen – which is what they call it. We started at the Pernickuv sen Gingerbread Store and not only did they have great gingerbread but also a whole variety of tasty cookies and treats.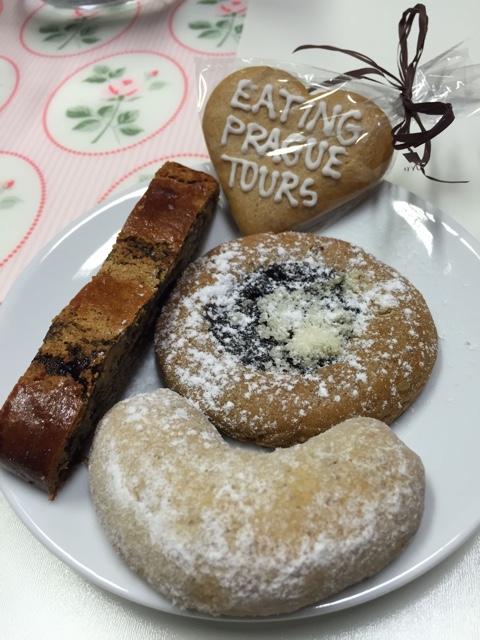 A selection of the best gingerbreads and traditional Czech cookies
We had traditional gingerbread, then gingerbread with walnuts and plum jam which our tour guide was told was named after a swear word because its so hard to make. We also tried traditional kolach gingerbread that is often eaten at weddings and we also had my favourite, the vanilla crescent which was similar to a shortbread and is a popular Christmas cookie.
A tasty tartare from Nase Maso (not included on the tour, but I highly recommend going back for it)
For our second stop we moved on to a butcher shop which in the coming days would become my FAVOURITE place to eat in the whole city. Nase Maso (which translates to "My Meat") is a typical butcher shop with fresh cut meats for you to chose from. However they do things a bit differently than I had seen before. Not only do they supply you with meats of all varieties but they will also cook it for you right there. You can then chose to take it to go or sit in their small seating area to enjoy right away as fresh as possible. They even have a beer tap sticking out of the wall where you can pour for yourself so you can enjoy a tasty Czech beer with your meats. Amazing.
A tasty tray of delicious meats from Nase Maso
As it is a small space we waited in the hallway just outside of the shop while our guide Jan went in and brought out our tasty eats. A fine selection of meats and sausages with pickles, bread and mustards. There was a kielbasa sausage and my favourite of course was the bacon sausage for obvious reasons.
The owners of Nase Maso also supply many local restaurants in Prague with their fresh meats and they also own a few restaurants themselves across the city know as Lokal. So if you see a place called Lokal, you MUST go there and eat as well.
A small selection of tasty open faced sandwiches from Sisters Bistro
We didn't have to move for our third destination of the day our next stop was right next door at Sisters Bistro. Home to many tasty open face sandwiches (which were apparently invented in the Czech Republic). We were brought three different kinds on sour dough bread all made with organic vegetables. 1) Pickled herring, dill, onions, radish and homemade mayonnaise 2) Beet root, goat cheese, beet root leaf and walnut 3) Celery root coleslaw with mayo, 3 herbs, parsley and tomato.
I think the herring was my favourite here but the beet was also surprisingly delicious. Our guide Jan told me that they add vinegar to the beet which removes the typical intense earthy flavour which made me like this one more than I thought I might. The goat cheese was of course delicious as well.
The historic Jindrisska Tower Belfry
Inside the Belfry is the Zvonice Restaurant
A great thing about these tours is that you also get to see the city and learn some interesting facts, information and history aside from just all of the food. Walking between each spot also helps you digest all of the delicious food that you are eating.
A traditional Czech sauerkraut soup
Prague has a lot of beautiful architecture and buildings so when we came upon this old bell tower I was surprised to find out that we were headed inside and that there was a restaurant on the upper levels. Also home to a museum the Jindrisska Tower Belfry is home to the Zvonice restaurant where we dine on a tasty sauerkraut soup. A traditional Czech dish which is most commonly made by the fathers of a family and eaten on the first day of the new year. It also helps that it is especially good for curing hangovers.
A popular piece of artwork by Czech artist David Cerny
Our tour also included a walk around the popular Wenceslas Square and a visit to a piece of art made by local artist David Cerny. This one was a hanging statue of King Wenceslas riding upon a dead horse and is quite iconic in the city. He has a few others throughout the city including the Metalmorphosis statue of a shiny silver head made up of different layers that move separate from themselves.
The misleading entrance to Style & Interior
Yogurt balls!
Our next stop was at a funky cafe/restaurant/furniture store called Style & Interior. Hidden from the main street, it was a cute boutique shop with a gorgeous outdoor patio in the back to enjoy on a nice and sunny day. It is also apparently a popular destination for weddings. We enjoyed a local wine here as well as a salad with yogurt balls. It was much better than that description might allude to promise me.
Roast beef on cream
If we weren't full enough we had one last stop for two more tasty dishes. Lastly we visited Cafe Louvre, one of the most well known cafes in the city and a favourite of Franz Kafka and Albert Einstein. With an art deco designed interior it was a beautiful spot to visit and extremely popular. We started with a traditional Czech meal of Svickova made of filet mignon stuffed with bacon, cranberries, sour cream and Czech dumplings. Seeing what it looks like is a bit different from a typical dish that you might be wanting to try but it was very good. I definitely recommend ordering a Svickova at least once on your travels in Prague.
Warm apple strudel 
Our tour ended in the best way possible with Cafe Louvre's famous Prague warm apple strudel. Topped with vanilla sauce and whipped cream, even though I was extremely full I could have eaten a bunch of these.
If you are looking for a unique way to explore Prague and are hesitant to try the local food then I highly recommend that you take the Eating Prague tour with Eating Europe.
Special thanks to Eating Prague for hosting me on this tour. As usual all opinions and views expressed are my own as is my delightfully full belly.