If you have found yourself here then you already know that Harry Potter is awesome. Whether you have read the books, seen the movies or both (yes, it's ok if you didn't read the books) you are a Harry Potter fan. Harry and his friends are magical "literally" and figuratively and their magic has carried on for many years. There are not many pieces of literature or film that can capture an audience like they have, that is still going strong 20+ years later.
Harry Potter has taken over the world and the fandom appears to be growing bigger and bigger still. There are now so many Harry Potter experiences around the world that I needed some help from my blogger friends to put this ultimate guide together. From where are the coolest settings, backdrops, and filming locations that you can still see today to where are the most magical Harry Potter themed bars, tours, theme park attractions and more. Here is my guide to the best Harry Potter experiences around the world.
Click HERE To jump to theme parks, HERE to jump to Food & Drink, HERE to jump to tours, HERE to jump accommodations.
The best Harry Potter experiences around the world
The Best Harry Potter Food & Drink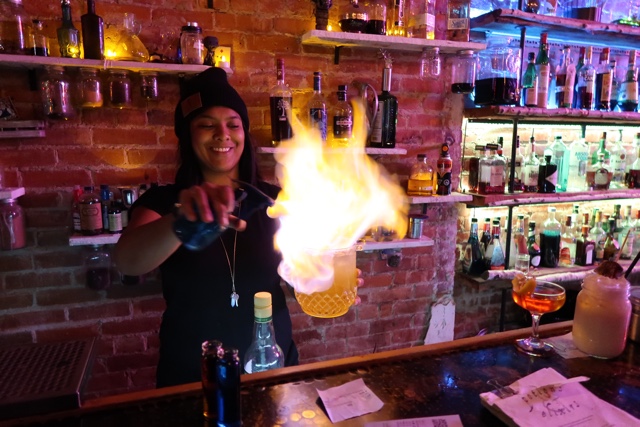 The Lockhart Cocktail Bar Toronto
If you ask, the Lockhart Cocktail Bar in Toronto, is a "magic themed bar". But we all know it's a legal-drinking-age Harry Potter lovers dream. With drink names like Shacklebot and Better Beer, "All Was Well" in neon lights on the wall, and the whomping willow by the bathrooms, it is a very cool place to have a Harry Potter geek out. Also serving brunch and hosting trivia nights it is a must visit for any HP fan while in Toronto. If you are visiting with friends I definitely recommend getting a shared Befuddlement served in a stags head and lit on fire. (They also have Montreal location.)
Contributed by CuriousClaire
Cutter & Squidge Afternoon Tea London
Themed afternoon teas have been growing in popularity in London and it was only a matter of time before Harry Potter inspired some Wizardy afternoon teas. With magic in mind Cutter and Squidge created The Potion Room where spell classes and afternoon tea are combined.
Before you enter the classroom you'll be given a cloak to put on and then led to your school desk to await the Potion Master. During your two hour experience you will be whisking up drinkable potions in beakers and learning magical spells from your Potion Master. All while enjoying a delicious afternoon tea inspired by classic British flavours.
The Potion Room is a fun and interactive afternoon tea that is suitable for the whole family ages eight and older. Also under 18s must be attending with an adult. They can also cater for dietary requirements including vegans, vegetarians and wheat free diets as long as they are given advance warning.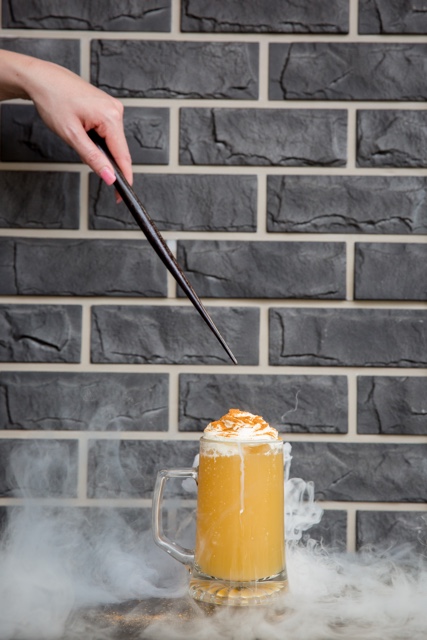 Image credit Kim Jane Photography
Vertic Alley Rooftop Bar at the Bourke Street Imperial Hotel, Melbourne
Melbourne, Australia is never one to be left out of a good thing and so when the Cursed Child theatre production arrived, they took all things Harry Potter and made it their own.
One of the best examples of this is the transformation of the Bourke Streets Imperial Hotel rooftop. Climb the quoted stairs to "Vertic Alley" with its six magical stores – The Owlery, Spring St Spell Books book shop, Impossible Feats of Trickery toy shop, Bourke St Wands wand store, Wills and Burke antique store and WIZPAC Bank, a wizarding bank.
Whichever store you choose to sit in, you will enjoy the very best rooftop views of Melbourne city with any number of potions at your fingertips. Try a spell binding Buttah Beer and a Gillyweed taco. Or if perhaps you prefer the darker side of things try the cursed wings (extra spicy chilli fried chicken wings with sticky sesame).
Contributed by Explore with Erin
Fishy Green Ale, Butterbeer, Chocolate frogs and more at Universal
The Universal theme parks (see more about them below) have some of the BEST Harry Potter foods that you will find anywhere in the world. The most popular item of course being the Butterbeer. This is JK Rowling approved Butterbeer. A lot of people don't know this but you can actually get six different Butterbeer tasting foods at Universal. From regular Butter Beer to frozen Butterbeer to hot Butter Beer in the winter months. You can also get Butterbeer flavoured ice cream from Florean Fortescue's, Butterbeer fudge and even Butterbeer potted cream.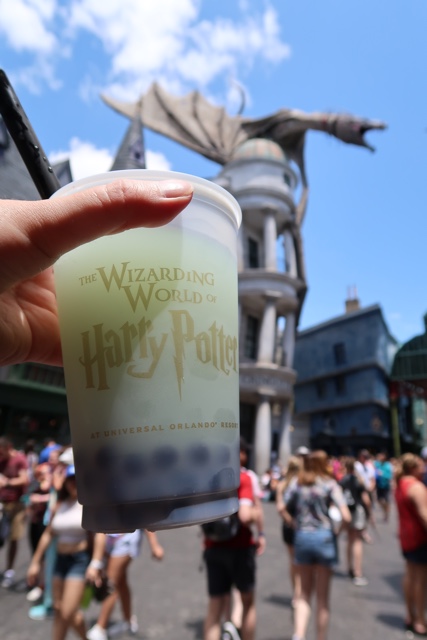 Some of the lesser known Harry Potter foods at Universal include Fishy Green Ale. This "interesting" drink might not be for everyone. It tastes of mint and cinnamon (like red cinnamon hearts) and has blueberry pearls, similar to boba balls, at the bottom. You can also get chocolate frogs and many other HP themed candy from the Honeydukes sweet shop. Be sure to also try Bertie Bott's every flavour jelly beans for a fun or disgusting surprise with each bite.
For the adults in the group you can also find some Harry Potter inspired beers on draught. Either visit the Hogshead pub or Hopping Pot and enjoy a pint of Wizards Brew, a sweet American stout, Dragon Scale lager or Hogs Head Brew Scottish Ale. The perfect drinks to wash down a Cornish pasty or other tasty British pub food at the Three Broomsticks.
Contributed by What's Hot Blog
The Cauldron Bar London
One of the most immersive Harry Potter related activities in London is The Cauldron's cocktail experience. For 1 hour and 45 minutes you will be immersed in a Potter-inspired potions class. Don your wizard robes, pick up a magic wand and settle down at your station to brew some mysterious and delicious cocktails.
You might not recognize any of the ingredients as they're all from the magical realm, but don't worry. You will have absolutely no idea what potions you are mixing together but you can be guaranteed that the end result is delicious. There will be wand waving, cauldron stirring and more in order to create the perfect drink.
The experience costs £29.99 – £34.99, which is very reasonable in London given that you get a riveting experience and three cocktails. This pop up experience is now launching its third volume after two successful runs. The second was a significant step up from the first so you should be very excited to see what they've cooked up for the third! Be sure to also check out its second location in New York.
Harry Potter Filming Locations and Inspirations
image by Oneika the Traveller
Livraria Lello Bookstore Porto, Portugal
The Livraria Lello bookshop (aka Lello & Irmão) in Porto, Portugal is known to be one of the most beautiful bookshops in the world. This famous Portuguese bookshop also served as inspiration for J. K. Rowling.
The author of Harry Potter lived in Porto for two years, and during that time she used to frequent the Lello bookshop. It is said that the stunning staircase in the middle of Lello bookshop inspired her when creating the grand staircases at Hogwarts. In the books, the grand staircases in Hogwarts castle allow students to access the different floors of the castle and had the magic power of moving in various directions.
The Lello bookshop was built in 1906 by the Lello brothers, who were dedicated to the commerce and edition of books. Besides the staircase, the most beautiful feature, the bookshop also has a majestic ceiling in stained glass. The Art Nouveau style is simply breathtaking.
Contributed by Travel Drafts
image credit Migrating Miss
The Elephant House Cafe, Edinburgh
The 
Elephant
House Cafe, in Edinburgh, is a popular spot and for very good reason. This is where JK Rowling wrote a large portion of the Harry Potter saga. Hat tip though, the cafe always has a queue, sometimes it's so long that it goes out to the street.
The food is not the best food in the area, but is fine and best of all, reasonably priced. There are many
elephants
decorating the cafe (hence the name), and wooden tables and chairs fill the place. There are also surprises if you open the drawers on the tables and desks that you set at, there are handwritten notes from people from all around the world. Messages to the writers that frequent the cafe, messages for the people reading the notes, reminders that X and Y were there and even lovely drawings.
The restrooms are also full of messages from fans to JK Rowling. Praises to this or that character, the Deathly Hallows symbols, caricatures of the characters, and so many quotes from the books and movies.
From the window, you can see Greyfriar's Kirkyard, which is also a must visit. It is said that JK Rowling use to write in the window overlooking the graveyard, Edinburgh Castle and George Heriot's School and they gave her many of her inspirations. In Greyfriar's Kirkyard you will find tomb stones with the names of William McGonagall and Thomas Riddell, as well as several Potters and more. George Heriot's School is a primary and secondary school that takes in orphans, like Hogwarts taking in Harry. Then we have Edinburgh Castle on top of a volcano that could inspire Hogwarts and all sorts of magical ideas.
Nicholson Cafe, Edinburgh
There are many Harry Potter locations in Edinburgh, but this one is a little lesser known. The Elephant House may have a huge sign outside touting itself as the birthplace of Harry Potter, but while J K Rowling did write some of the later books there, it wasn't the only cafe in Edinburgh she frequented, or where she wrote the first book. That cafe was Nicholson Cafe (now known as Spoon), on the corner of Nicholson and Drummond Street.
The cafe was co-owned by her brother-in-law and the story goes that J K Rowling would take her young baby there and write out the story longhand on sheets of paper, before using a typewriter later at home when it was more finalized. Later, Nicholson Cafe turned into a Chinese buffet before becoming Spoon, a cafe restaurant where you can still go and sit in the windows looking down on the bustle of Nicholson Street, the view J K Rowling would have had. Keep an eye out for the sign on the corner of the building, that claims J K Rowling wrote the some of the first chapters of the Harry Potter series there.
For more info on all things Harry Potter in Edinburgh click
HERE
.
The Balmoral Hotel, Edinburgh
J K Rowling may have started writing much of the early Harry Potter novels in Edinburgh, but she also finished writing there. In the early days she would frequent cafes to write, with her young daughter as a way to get out of the house because the walk and fresh air would put the baby to sleep. However, by the time she finished writing the series in 2007 she was in a very different place in life and location. The five star Balmoral Hotel next to Waverley Station in fact.
It was in room 552 at the Balmoral Hotel that she finished Harry Potter and the Deathly Hallows. This is confirmed by a signature and note she wrote on a golden bust of Hermes that was part of the room decoration. It reads: "JK Rowling finished writing Harry Potter and the Deathly Hallows in this room (552) on 11th Jan 2007". It is possible to stay in the room if you visit. That is of course if you have £1000 or so to spare!
Contributed by Migrating Miss
The Glenfinnan Viaduct and Jacobite Steam Train
Have you ever wanted to ride the Hogwarts Express? Well, the good news is, you can! It's actually a real train up in Scotland called the Jacobite Steam Train. If you want to book your own journey on the train, it runs yearly from April to October. The route is 82 miles roundtrip (though you can book it one-way if you'd like), and runs between Fort William and Mallaig. It is recommend booking well in advance though, because it is a popular attraction for summer tourists in Scotland.
Even if you don't get a chance to ride the train, you can follow it for photo ops along its track. The most famous spot to photograph the train is at the Glenfinnan Viaduct. You'll recognize this location from the films, like when Harry and Ron flew over the Hogwarts Express in the flying Ford Anglia. For the best viewpoint, hike up one of the hills around the viaduct and just wait for the train to come around the bend. It is easily one of the most iconic photo spots in all of Scotland.
If you're lucky enough to be on the train, head to the back and find an open window for the best view of the whole train turning as it goes over the viaduct. Beyond being famous for Harry Potter, the Jacobite Steam Train is well worth the journey just for the views you'll see while you are onboard. It will be easy to see why it is frequently rated one of the most scenic train journeys in the world!
Contributed by Ready Set Jet Set
image credit Waldomiguez Adobe stock
The city of Oxford in England
The city of Oxford looks like it could have been built as a Harry Potter set, but in reality it's about 800 years older! While some of the movies were indeed filmed there, Oxford also provided inspiration for the books and films. The Hogwarts Great Hall was allegedly designed with the Christchurch College Dining Hall in mind. This is one of the most popular Harry Potter spots for visitors to Oxford and costs £7 to enter. This fee will also allow you to see a second filming location: the sweeping staircase where Professor McGonagall greeted Harry, Ron and Hermione in the Philosophers Stone.
Oxford's Duke Humfrey's Library was also used as a Harry Potter filming location, as well as the shaded cloisters (stone outdoor walkways) of New College. Tour these spots and see how many you recognize!
Contributed by Where Goes Rose
Cliffs of
Moher
One of the most memorable scenes in Harry Potter and the Half-Blood Prince is when Dumbledore and Harry apparate out of Hogwarts to visit "The Cave". It is here they encounter Regulus Arcturus Black's fake Horcrux replacing Salazar Slytherin's locket and Horcrux and Dumbledore returns to Hogwarts exhausted. The film adaptation of the book takes us to Irelands famous Cliffs of
Moher
.
In order to see the cave and surrounding rock cliffs that you see in the movie, you must take a boat ride on the water below the cliffs. From the Doolin Pier, you can take a boat tour that will take you along the cliffs until you arrive at what the boat operators refer to as the Harry Potter cave.  Not only are the Cliffs of Moher a filming location for Harry Potter, but they are also one of Ireland's top tourist attractions. Known for their natural beauty and definitely with a visit.
Contributed by Honeymoon Always
Alnwick

Castle, Scotland

In Scotland you can visit the

Alnwick

Castle which was another filming location for the Harry Potter movies. Alnwick castle specifically was featured as Hogwarts School of Witchcraft and Wizardry. While visiting if you are lucky you might even run into some wizards who will teach you how to fly broomsticks.

The castle is currently inhabited by the 12th Duke of Northumberland, Ralph Percy and his family. Inside it has a homely feel but is still very impressive. Alnwick has been in the Percy family for 700 years and all of their history, priceless paintings, furniture, books, journals, photographs and personal possessions are still there for all to see. From legendary Kings and Queens of England to the present day, many have visited and lived here. After all

Alnwick

Castle is the second largest inhabited castle in all of England. The castle gardens and grounds are also just as enchanting as the castle so be sure to check them out.
Image by Pharaoh_EZYPT from Pixabay
Millennium Bridge, London
If you find yourself visiting London there are several Harry Potter filming locations that you can find from Harry Potter and the Half Blood Prince. One of the most iconic scenes is the Death Eaters attacking the city and wrecking havoc on the Millennium pedestrian bridge. See the bridge from below by the river Thames, take a stroll across, or for the best view check it out from the cafe at the top of the Tate Modern. For more Harry Potter sights in London take a tour with
Tours For Muggles
.
Goathland Railway Station, North Yorkshire, England
Goathland Railway Station appeared in Harry Potter and the Philosopher's Stone as Hogsmeade Station. It is seen near the beginning of the film briefly as the children arrive at Hogwarts and in the final scene of the movie as Hagrid waves goodbye to the children.
Tucked away, high on the moors of North Yorkshire it is like a step back in time. You can get to Goathland by car from Whitby or Pickering. Or you can arrive by steam train on the North Yorkshire Moors Railway. This is the easier option, no winding roads and no need to find parking. It is free to explore the station at any time although it gets busy with passengers and train spotters when a steam train is due. Avoiding the summer holidays and half terms also makes exploring easier.
The station has a deep red metal footbridge over the train tracks and the bench that said "Hogsmeade" in the film. You can easily envision the Hogwarts Express rolling through the station as the trains come and go. There is also a small Harry Potter shop for a little fix of treats.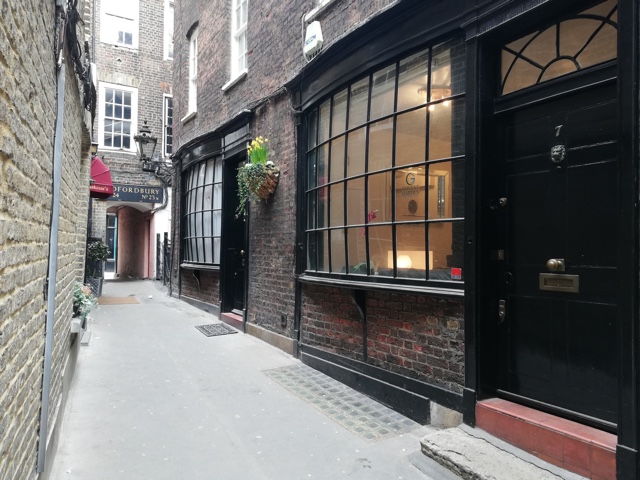 Goodwin's Court, London
Goodwin's Court is one of the lesser-known Harry Potter sights in London. It was the inspiration for the set of Knockturn Alley – that haunt of Dark Wizards. Harry accidentally ends up there when he mispronounces "Diagon Alley" for "diagonally" while attempting to travel by the Floo Network for the first time.
The only reason that the Knockturn Alley scenes weren't filmed in Goodwin's Court itself is because it was too narrow for the film crew to fit all their equipment inside. Instead, they built an exact replica of Goodwin's Court at Warner Bros. Studios London. The large bay windows that jut out from the terrace houses, making the narrow passage even narrower, are instantly recognizable.
Without all the Dark Arts shops, though, Goodwin's Court seems much less sinister. In fact, it is a very peaceful place and is incredibly quiet considering that it's in such a busy area in London's West End. Stepping into this forgotten passage is much like stepping back in time.
The charming row houses were built in the 17th century, and if you come here at night you'll see that even the original gas lamps are still in working order. It's easy to see why this place was chosen to represent the wizarding world.
Contributed by the Nomadic Vegan

The exact location where Ron and Harry destroy Slytherin's Locket in part one of The Deathly Hallows
Burnham Beeches, Buckinghamshire, England
Burnham Beeches is something of a cameo location in the Potter universe compared to the most famous like Alnwick Castle, Glenfinnan Viaduct and various spots in London but it is still highly significant on two separate occasions. For it is here that Harry and Luna first got a close encounter of the Thestral kind in Order of the Phoenix. It is also where Ron and Harry destroy Slytherin's Locket in part one of The Deathly Hallows.
Conveniently located close to Pinewood Studios, it is no surprise that the woodland nature reserve of Burnham Beeches and Stoke Common has on so many occasions attracted the directors of many a film and TV show to this well-heeled corner of South Buckinghamshire. The acres of woodland has provided an ideal setting for many other film and TV shows. Most notably doubling up for Sherwood Forest in 1991's Robin Hood: Prince of Thieves.
An important conservation area rich in biodiversity, one of the most interesting sights are the rows of pollard beech trees. These clipped only to a certain height suitable for grazing among cattle. Burnham Beeches, managed by the City of London corporation despite its
location outside the boundaries of Greater London, is one of the most perfect locations for nature exploration any time of year. There is little doubt however that Autumn is THE best time to visit. This is when it really does feel like stepping into a Harry Potter inspired
world. Golden foliage glowing high above and around on the ground. The woodland feels more like a forest now and and Autumn wonderland!
Contributed by Journey Maxx
Harry Potter's Forbidden Forest and location of Hagrid's Hut
Also not too far away by little more than 4 miles is Black Park Country Park. Located almost literally next door to Pinewood Studios in the village of Iver Heath. Another peaceful woodland characterized by giant trees circling a great lake. A lake where at certain times of year, Mandarin Ducks have been known to visit and swim along. And yes, another
memorable filming location too, this time the Forbidden Forest and Hagrid's Hut in the first two films. In fact, with these two areas of Specific Scientific Interest located not too far away from each other, this would make an ideal trail on a clear summer's day. A circuit of the beginning and end of the Harry Potter series.
Contributed by Journey Maxx
Image by Elle Nichols from Pixabay
Lacock, Wiltshire, England
Lacock is a lovely village in Wiltshire, England about 100 miles west of London. Its few streets are lined with picturesque stone and timber-frame houses and cottages dating to as far back as the 14th century. Harry Potter film fans though will know Lacock as Godrick's Hollow. Lacock Abbey, a 13th-century monastery that is now a museum, was the site of several interior shots. For the first movie, Professor Snape's Potions class, Professor McGonagall's Transfiguration lessons and Professor Quirrell's Defense against the Dark Arts classes were all filmed here. As were the scenes involving the mirror of Erised. The beautifully-preserved cloister at the abbey also provided a backdrop for some scenes.
Other Harry Potter-related sights in little Lacock village include the Sign of the Angel Inn, which posed as the Babberton Arms in Harry Potter and the Half-Blood Prince. You can find Harry Potter's childhood home in Lacock, as well as Horace Slughorn's house. The village church, St. Cyriac, appears as Godric's Hollow Parish Church, along with, of course, its cemetery.
Contributed by Rachel's Ruminations
Platform 9 & 3/4 at King's Cross Station, London
Any Harry Potter fan should absolutely make a stop at Platform 9 3/4 when visiting London. It is such a wonderful experience and it's free to visit. Located inside the
King's
Cross
train station near platforms 9 and 10. There is a sign, a luggage cart that looks like it's halfway through the wall and a small shop filled with the ultimate Harry Potter souvenirs. The push cart is there 24/7, but if you go during the shop hours, your experience is sure to be even more magical.
There is often a crowd so you must wait in line to get your photo taken. The staff taking photos are a lively bunch and they keep the crowd entertained. They also make your photos even more magical by helping with poses and tossing your scarf up in the air to make it look like you are in mid-run through the wall. You can take your own photos during this time as well or purchase the photos they took inside the shop.
Durham Cathedral
If you arrive in
Durham
by train, you will see one of the best viewpoints of the whole city, with a spectacular view of
Durham
Cathedral and castle.
It's worth heading closer, especially for Harry Potter fans, with the cathedral's medieval cloisters (maybe you remember Ron vomiting slugs) and classroom scenes (the spectacular Chapter House) featuring in the films. A CGI-enhanced
Durham
 Cathedral, combined with other buildings, doubled for exterior shots of Hogwarts.
The cathedral is a leisurely 15-minute walk from the train station. Pass over the 15th century Framwellgate Bridge for further views of the cathedral standing impressively over the River Wear. Entry to 
Durham
Cathedral is free, though donations are encouraged to and well worth a donation.
Freshwater West in Wales and the Shell Cottage
Freshwater West Beach in Wales is part of the Pembrokeshire National Park and is probably the best place to surf in all of Wales. It is also home to the original location of the Shell Cottage, which was created for the Harry Potter and the Deathly Hallows films.
The Shell Cottage was owned by the Weasley's family and was home to Bill and Fleur after they were married. In the film it was also used as a hideout and was unfortunately where Dobby the house elf was killed by Bellatrix Lestrange. Harry dug Dobby's grave and buried him there in the garden where they had a small funeral for him.
The exterior of the house was only built for the film and sadly after they finished filming it was taken down. While you now can no longer visit and see the Shell Cottage, Freshwater West Beach is still a great destination to be seen.
Aside from being a great spot to surf, it is a really stunning place for hikes and camping. While there you can visit the amazing Pembrokeshire Coast National Park and Pembroke castle. Freshwater West in Wales really comes alive in summer and is a sweet tourist destination that you need to see.
Contributed by The Northern Boy
Gloucester Cathedral
The cloisters of 
Gloucester
 
Cathedral
served as the corridors of Hogwarts School of Witchcraft and Wizardry in the Philosopher's Stone, The Chamber of Secrets and The Half-Blood Prince. Built over 1300 years ago,
Gloucester
 
Cathedral
 can be found close to the city centre of 
Gloucester
, a historic city in the South West of England. It has also been used as a filming location for top British TV shows such as Sherlock and Doctor Who.
Enter free-of-charge and potter about (pun unintended), pretending you are casting spells in the corridors of Hogwarts. The
cathedral
runs guided tours where experts can show you exactly where the movies were filmed. Look out for must-see spots such as the corridor flooded by Moaning Myrtle, the original door to the Gryffindor Common Room, and the corridor that famously spelled out: The Chamber of Secrets has been opened! Enemies of the Heir… beware."
The Hogwarts Black Lake, found only at Universal Studios Japan in Osaka
Universal Theme Parks
Three of the four Universal theme parks around the world feature the Wizarding World of Harry Potter. These parks have the most amazing and immersive Harry Potter experiences that you will find anywhere. There is so much attention to detail, that you can even hear Moaning Myrtle in the women's bathrooms. They have literally thought of everything.
Universal Orlando, Hollywood, and Osaka, Japan are all home to Hogsmeade and the Hogwarts School of Witch Craft and Wizardry. All three are quite similar to each other with a few small differences. (In Osaka you will find Hogwart's Black Lake as well as live Owls.) At Universal Orlando however you will also find Diagon Alley, a bit of London, the Knight Bus and the Hogwarts Express train. In Orlando you can actually ride between Diagon Alley and Hogsmeade.
Inside the Three Broomsticks restaurant in Hogsmeade
In Hogsmeade you will find the Three Broomsticks, where you can enjoy some delicious British pub food. You can also visit the Hogshead Pub or one of the carts outside for a delicious Butterbeer. Here you will also find Olivander's where you can buy your very own interactive wand that lets you do magic around Hogsmeade. Or you can head to Honeydukes for a chocolate frog or Bertie Bott's Every Flavour Beans. Thrillseekers can also ride the Flight of the Hipogriff Rollercoaster in Hogsmeade. For even more adventure head inside Hogwarts to ride the Harry Potter and the Forbidden Journey 4K 3D ride that twists you up down and all around.
In Hogsmeade there are also performances put on by the Hogwarts students. (Performed in Japanese in Osaka.) These performances vary by the season as do the decorations throughout the park and the light shows projected off of Hogwarts each night. Speaking of seasonalities winter time is also the only time hot Butterbeer is available.
Diagon Alley at Universal Studios Orlando
At the Universal Orlando Resort Hogsmeade is in the Islands of Adventure park and Diagon Alley is in the Universal Studios park. To get between each you can walk or take the highly recommended Hogwarts Express. Note that you do need a park-to-park pass to do so. Â The Hogwarts Express is quite the experience in itself, not to give it away but it looks like you are actually on the train with Harry and friends, and maybe even some dementors. The experience is different in each direction, however many prefer the experience headed from Diagon Alley to Hogsmeade the most. When headed in that direction you also get to pass through the wall at platform 9 & 3/4s.
To enter in to Diagon Alley you walk along the streets of London pass the Knight bus. Look inside the windows of the homes as you go and you might just see a House Elf. Head through the secret passageway and you will find the magical Diagon Alley. There are a few places to eat and drink here as well including Florean Fortescue's Ice-cream Parlour. You can also explore the creepy Nocturne Alley and experience the Harry Potter and the Escape from Gringotts ride. Try some magic with your wand and be sure to also enjoy a show by Celestina Warbeck and the Banshees.
Throughout all parks you will find various shops where the Harry Potter merch is endless. You can buy almost anything like an itchy wool sweater with a H or R on it like the one Mrs. Weasley made for Harry and Ron. Or you can pick up a scarf in your house colors, get your very own Hedwig, a gold snitch, mugs, a Marauder's map, Christmas ornaments, notebooks, and even your own student robes.
image credit Universal Orlando Resort
Hagrid's Magical Creatures Motorbike Adventure
In June 2019 Hagrid's Magical Creatures Motorbike Adventure, a new ride, will be opening the the Universal Orlando Resort. On this new ride you will join a real-life Care of Magical Creatures class and board a version of Hagrid's beloved motorbike. From there, you'll be whisked off on an adventure through the Forbidden Forest. On your journey you can find various creatures from the magical world. You will see Hagrid's three-headed-dog Fluffy, Cornish Pixies, a Blast-Ended Skrewt, a centuar and more.

Harry Potter Studios and Walking Tours
Warner Bros. Studios Tour London – The Making of Harry Potter
Located just north of London is the Warner Brothers Harry Potter Studio where much of the films were made. Today the WB Studios now hold a permanent exhibit in studios J & K offering fans a behind the scenes look into all things Harry Potter. The visit begins with a guided tour, and after a short movie clip, the first thing you do is walk into the Great Hall. From there, you can wander through the exhibits on your own and visit places such as Harry's dorm room, Hogwarts schoolrooms, Dumbledore's office, and the Weasley's house. You even head outside to see the Dursely's House, at number 4 Privet Drive. (The real original location for the house is at 12, Picket Post Close in Bracknell.)
There are sets for just about every scene you would like to see. Being behind the scenes, the exhibits tell and show you how all of the magic is created in the films. You learn everything from how the animals were trained to how they film the broomstick flying scenes. You can also try Butterbeer and shop for your favorite Harry Potter souvenirs. A visit to the studio will take a minimum of three hours. Be sure to buy your tickets far in advance as they sell out quick.
Contributed by Reflections Enroute
Getting sorted by the sorting hat along with the wardrobe from the teachers of Hogwarts
Warner Bros. Studio Tour Hollywood
The Harry Potter films are produced by Warner Brothers and for the majority were filmed in the UK. Although not in the UK Warner Bros. Studios in California also has a few Harry Potter attractions you don't want to miss. One of the most exciting things that you can do is sit under the sorting hat and be told which house you belong in. They even have one of the 16 original Ford Anglias used in the films. Guests can also learn some green screen magic and get actual video of them flying on a broomstick (for an extra fee). Another part of the tour features an exhibit with original wardrobe from the films, along with various props like the original Triwizard-Cup.
Niffler, Demiguise, Occamy and Erumpent baked goods by Jacob Kowalski
Continuing on with the Harry Potter series and all things JK Rowling the Warner Bros. Studio Tour in Hollywood also has a pretty exciting new exhibit. You can now see an expanded exhibit on the Fantastic Beasts and where to find them AND Fantastic Beasts: The Crimes of Grindelwald. Get close up with various pastries made by Jacob Kowalski, and see Newt Scamander's wardrobe and classic blue jacket. They even have the wardrobe worn by young Dumbledore aka Jude Law.
Last but not least don't forget to exit through the giftshop. Not only can you find classic Harry Potter souvenirs here from wands to robes and t-shirts but you can also find awesome Fantastic Beasts souvenirs. You can even buy your very own Niffler!
Walking Tour Edinburgh
As mentioned before the city of Edinburgh is where JK Rowling got a lot of her inspirations for writing Harry Potter. Take a walking tour with the Potter Trail and learn a lot of incredible insight into how many of the books and films came to be. From the cafes she wrote in that were mentioned previously above, to the cemetery where she found the names of some of her characters. You can also visit the real life Diagon Alley. The tours last 90minutes and take place year round. The tours are free with a suggested donation/tip to the guide at the end of the tour.
If you can't get enough of Harry Potter walking tours in Edinburgh then also check out the tour by New Europe Tours. Their Edinburgh Harry Potter tour costs £ 12, learn more HERE. In London be sure to also check out the Tours For Muggles walking tour.
Tour the House of MinaLima in London
Miraphora Mina and Eduardo Lima, hence MinaLima, got the chance of a lifetime when they were brought on board the Wizarding World team as its very own magical graphic designers. MinaLima were responsible for all designs in the Harry Potter movie series and are now creating for the Fantastic Beasts movie series. Everything you see on screen from the Marauder's Map and the Daily Prophet issues to Weasley's Wizard Wheezes and Snape's potion bottle labels grew from their creative minds. Want the chance to see the original Marauder's Map, purchase a signed original print of the Daily Prophet and possible meet the MinaLima duo? Then look no farther than the House of MinaLima located in the middle of Soho, London. The House of MinaLima offers free tours every Monday and Tuesday from 12pm to 7pm.
If you're not careful, you might even miss their shop among the craziness that is Soho. Find it at 26 Greek St, Soho, London W1D 5DE, UK. The quaint storefront exudes a hole in the wall feel but once you're inside it literally grows upwards as a crooked 3 story house filled with wonderful Harry Potter and the Wizarding World magic. The House of MinaLima is a can't miss for both the ultimate and less fanatic Harry Potter fans.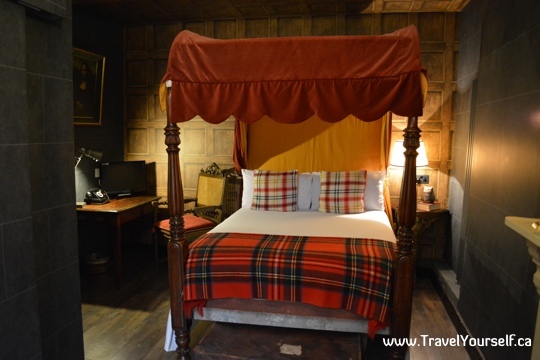 Harry Potter themed Hotels
The Georgian House Hotel is a 5 star boutique hotel in London with a little secret in the basement. Hidden behind a bookcase is where you will find it's "Wizard Themed" chambers. There is a family sized room with two single beds and a double bed and the Enchanted Chambers with a double sized bed. The rooms are dark with a gothic feel and stone walls almost as if you were staying in Hogwarts itself. There are trunks, cauldrons, candles, working fire places, four-poster beds with velvet curtains and Gryffindor like tapestries.
The hotel also offers a Wizard Cocktail experience where guests can concoct their own magic potions. Non-alcoholic versions are available as well. All guests that stay in the wizard chambers also have the option of a magical breakfast to complete your magical journey. Book now HERE.
image credit North Shire
Sleep Like Hagrid at the North Shire
Recently opened you can now book a stay and sleep like Hagrid in the Ground's Keeper Cottage. Located at the North Shire Holiday retreat in England's North York Moors National Park. The cottage sleeps 6 (4 adults and 2 kids) and comes with all of the comforts of Hagrid's home. Located on a family farm near the ocean upon acres of forests. The peacefulness of this place is magical enough. For Lord of the Rings fans you can also stay in a Shire home here as well, just like in Hobbiton.
See Harry Potter at the Theater
Contributed by Between England and Iowa
Harry Potter and the Cursed Child the Play
Harry Potter And The Cursed Child brings the Harry Potter series to life in a completely different way! This might possibly be one of the best Harry Potter experiences around the world. The stage show is currently running around the world in London, New York, San Francisco, Melbourne, Australia and Hamburg, Germany. The story is set where the movies and books left off, when Harry's children are students at Hogwarts.
The show is split into two parts, with each part around 2 and half hours long. Theatregoers can choose to either see both Part 1 and Part 2 on the same day, or separately. It is recommended by fans to see them in one go so the cast is the same for each. Book your tickets far in advance as they sell out quick and can be very expensive but worth every penny. Harry Potter and the Cursed Child is unlike anything else and even better than what you probably assume. The effects are very impressive and are really magical! The plays script is also available online HERE if you are unable to attend in person.
Enjoyed this post? Pin it for later to make all of your Harry Potter dreams come true!
Thank you to my contributors. Some texts were edited for length, clarification and embellished with my Harry Potter nerd knowledge. Please tell me in the comments what I am missing from my list!