Over the past few months I have become quite the instagramming addict on my travels. If I am served a fantastic looking plate of food no matter where I am, you can guess that I will be instagramming it with no shame. If I see a pretty sunset or an interesting street scene you can bet I'll be instagramming that too. For (almost) every photo I share on instagram I attempt to edit it and make it seem like a piece of beauty rather than a poorly lit unappetizing plate of mush. I do try, but yes I am a stereotypical instagrammer, I admit it. However I do lead a slightly different life than others where I am often in a different country from month to month so I like to think that this makes up for my mundaneness.
Its truly amazing what we can do with these little phones in our pockets!
I also love sharing these photos with you and with my previous posts from Costa Rica, South Africa and Indonesia I have gotten some very positive feedback so today I bring you instagram photos from Jordan!
If you want to stay up to date with my instagrams give me a follow @cailinoneil.
This is a photo of the BEST hummus of my life. Hummus so good that you want to marry it. I ate this fine specimen at the Sufra restaurant on Rainbow Street in Amman.
Mansaf is a traditional Jordanian dish. I had no idea what I was ordering at first but I knew it was the chefs special every day so it had to be a good thing. Mansaf is lamb cooked in a sauce of fermented dried yogurt and served with rice or bulgur. Noms – I also ate this at the Sufra restaurant.
The first night of my G Adventures tour our group got together and went for dinner at one of the best falafel places in the city called Hashem restaurant and it was damn good.
This was actually my first time ever eating falafel!
My tour guide / CEO from G Adventures – Ayman, tells us a bit about the ancient city of Jerash aka Gerasa.
In Amman along the side of the road people were selling these everywhere. Green Almonds. Green and fleshy on the outside and the inner shell has not yet hardened, technically the green almond is to the Almond what a young coconut is to a coconut. The almond nut itself grows in the middle but picked early enough the whole thing is edible. The taste is sour and fruity almost like an apple and is surprisingly juicy. Often in the middle east they dip them in salt to balance with the sour taste.
I learned in Jordan that they play the bagpipes! Who would of known?
Mezze is a popular food. When you  plan on going out to eat in Jordan make sure you bring lots of friends with empty stomachs.
Jordanians like their sweets and this one was particularly tasty. Called Halgoom it was surgery and jello-y and marshmallowy.
The ancient city of Petra is a whole lot more than just the iconic Treasury. Below me you can see more tombs carved from stone in this massive ancient city.
These mannequins lined up on tables in the city of Madaba were begging to have their photo taken.
This is what one might call the "pièce de résistance", the famous Treasury in the ancient city of Petra.
While on tour we spent in the night in the Wadi Rum desert and had a chance to watch the sunset over the mountains.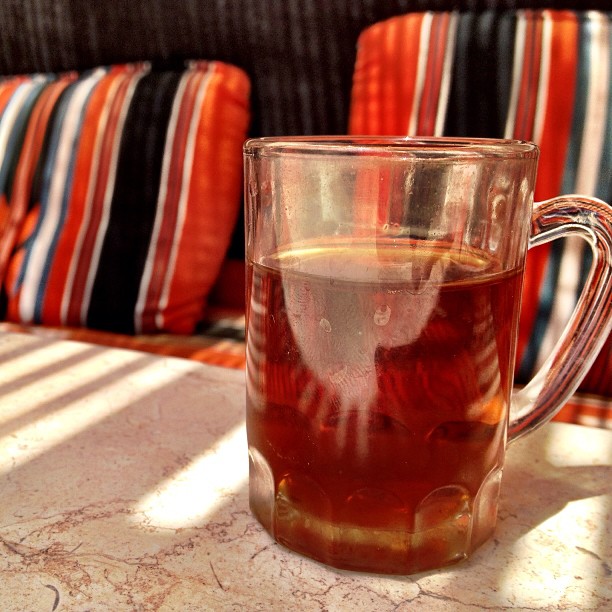 When in Jordan you will find  yourself drinking A LOT of tea. Served above my Bedouins in Wadi Rum it was very tasty, no milk required.
One of the most popular deserts to eat in Jordan. I tried it at a specialty bakery in Amman called "Habibah" and there was a constant line out the door for this unique treat.
Camels were everywhere but I was too afraid to ride one… I admit it… they are so tall! 
Fish on ice at a popular restaurant in Amman.
The Royal family in Jordan is loved by everyone and you will see photos and paintings of them everywhere you go. This one in particular of King Abdullah II caught my eye.
For the record, yes I did play the Indiana Jones theme song on my phone as I approached the Treasury in Petra.
The sun sets behind a large sand dune in the Wadi Rum desert.
A view of Amman at the Roman Theatre and Forum from on top of the Citadel.
A typical street scene in Amman…. wait a minute, those are mannequins!
These were just a few of my instagramed shots from my 10 day trip around Jordan. To see more check out my instagram @cailinoneil.
Are you on instagram? Leave your user name in the comments below and I'll give you a follow. Stay tuned for more posts and videos from my Jordan Adventure.
My trip was provided for me by the Visit Jordan Tourism Board and G Adventures. At no point did they ask for a favourable view, amazing photos or for me to explore this ancient site with a childlike wonder. All views expressed as always are my own.