While visiting Malaysia I spent a week in the state of Terengganu and then spent some time on the islands of Redang, and Penang and less than 24 hours in Kuala Lumpur. As I do, I was constantly taking photos and uploaded a select few to instagram. Here are some of my favourites.
To see more posts highlighting my travels through instagram check out these posts: Dubrovnik,Maui, Jordan, Costa Rica, South Africa and Indonesia.
The main reason for my being in Malaysia was to go to the Terengganu International Squid Jigging Festival. On the second day of Squid Jigging this was the lovely boat of a local fisherman's that we went out on. Completely made of wood, not a single piece of metal, not even nails are used to make these boats.
A close up view of a Buddha statue covered in gold leaf at the Wat Chayamangkalaram buddhist temple in George Town on the island of Penang in Malaysia. Also home to the third largest reclining Buddha in the world.
Also on the island of Penang in Malaysia is the Snake Temple. Perhaps the only of its kind in the world it is home to a variety of venomous pit vipers. Located next-door to the temple is the snake farm where you can see over 50 different live snakes many of the venomous variety. Here the owner shows me her favourite a granite python.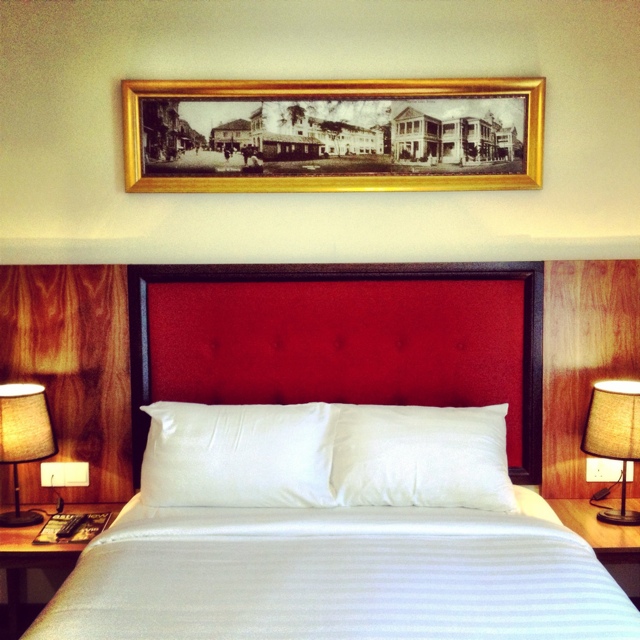 While staying in Penang I spent a couple nights at the Armenian Street Heritage Hotel. Located in the middle of George Town it was in the perfect location for everything that we wanted to see and do in the city. It was also very modern and the beds were oh so comfortable.
The island of Penang is also home to many Buddhist temples. As an offering people light lotus candles in hopes that their prayers and wishes will be granted. The candles burn at the Burmese Buddhist Temple.
While snorkelling off of the Island of Redang I found an anemone and all kinds of clown fish like Nemo were swimming around in it. Definitely one of the coolest things that I have ever seen while snorkelling. (image taken with my GoPro)
It took me two days of Squid Jigging but on the second day I finally caught my first Squid! He then decided to squirt a bunch of water at me.
One of my favourite things about the Island of Penang and George Town was all of the cool street art throughout the city. Created by a Lithuanian artist named Ernest Zacharevic these pieces throughout the city were commissioned by George Town in hopes to get people out exploring the city and it has worked! There were people everywhere and it was really cool to see.
On my first trip to Asia the year before I visited Indonesia and on that trip and this trip I kept hearing about this fruit called Durian. People either love it or hate it and the smell is so strong that it is actually banned from public areas and even hotels. While in Terengganu, Malaysia at the Chinatown market I finally get it a try…. it was interesting. Watch my video HERE to see how I made out.
While in Malaysia I flew on Malaysian Airlines for the first time ever. This was also the first time that I have ever been on a plane that had rainbow coloured seats.
With the success of Ernest Zacharevic art in the streets of George Town in Penang other art started appearing around the city. However this time the art was all about cats. Started by the 101 Lost Kittens Project to help raise awareness of the strays and abused cats in the city. All of the cats were so adorable.
Another piece of street art by Ernest Zacharevic this is by far the biggest in George Town, Penang and is of a rickshaw driver taking a break.
While in Malaysia I also spent a few nights on the beautiful island of Redang where I stayed at the Laguna Redang Island Beach Resort. I did not want to leave… can you blame me?
The Crystal Mosque in Terengganu, Malaysia.
The beautiful pool Terrapuri Resort in Terengganu, Malaysia.
More street art in George Town, Penang, Malaysia. This one is called "The Real Bruce Lee Wouldn't Do This" and is another piece of art for the 101 Lost Kittens Project.
To see more of my instagrams and travels please follow me on instagram @cailinoneil.
Special thanks to Visit Malaysia and Terengganu Tourism for inviting me to and hosting me for the Terengganu part of my trip to Malaysia. As always all opinions and views expressed are my own.