The view of West Maui from my hotel room at the Wailea Marriott.
If you are planning a visit to Maui, Hawaii here are some useful tips to make your trip as good as possible.
Unless you plan on laying by the pool the whole time you should definitely rent a car.
If you do rent a car make sure you get a GPS or at least have a GPS app on your cell phone. I found the way Hawaiians told me directions very confusing to how mainlanders tell directions. We just talk about directions differently, its hard to explain. A GPS will be your friend.
Make sure you try Shave Ice, or you might regret it.
Shave Ice bigger than my head!
If you are looking for spam musubi don't go looking for it in a restaurant. Apparently the best Spam Mashubi is sold in the gas stations.
Planning on visiting the top of Mount Haleakala? No matter how warm it is where you are on Maui there is a good chance that it will be freezing at the top. Bring a good sweater and or jacket.
Maui is the last Hawaiian island to grow pineapple. Take a pineapple tour and have the FRESHEST pineapple of your life.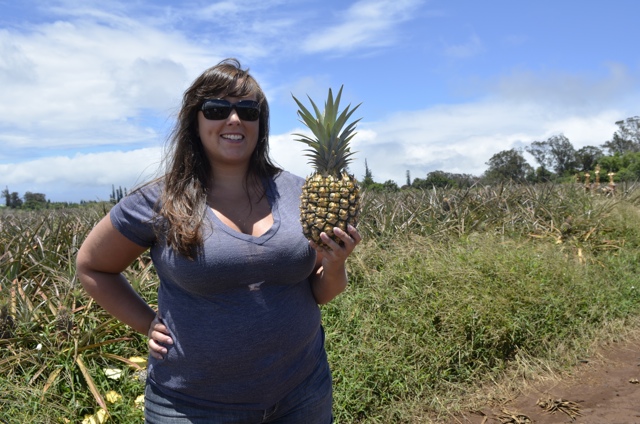 The BEST tasting pineapple of MY LIFE.
It will most likely rain. If it does rain from my observations the locals will tell you it "never" rains. However be prepared anyways because most likely it will rain at least once.
Always take your camera with you wherever you go. Maui along with the rest of the Hawaiian islands are known for having rainbows every day of the year
If you don't think you can afford to visit Maui because of the cost of hotels you should look into renting a condo. While I was there I stayed in a Sunny Maui Condos. It was in a great location and it was nice to be able to cook my own meals once and a while.
Make sure you get out on the ocean. Whether you go kayaking, learn to SUP (Stand up Paddle Board), go snorkelling, take a sunset sail, dive deep with the Atlantis Submarine or ride on a Hawaiian Sailing canoe, whatever you decide to do make sure you get out on the water.
Sage our awesome tour guide and Owner/Operator of the Hawaiian Sailing Canoe Adventures Company.
Go to a Luau. This might sound very cliche but it is definitely something fun to experience and you can actually walk away having learned a lot about the history and culture of the islands. While there I went to the Feast of Lele in Lahaina and was told that it is one of the  best on the island. An added bonus is that your food is served to your table where as many of the other Luaus on the island are set up at buffets.
Have a Mai Tai and a Lava Flow. Before going to Maui I don't I had ever had a Mai Tai before. I then had them everywhere I went. Ever since I left Maui I've asked for one at a few different places and have been extremely disappointed each time. You must try one in Maui, they are fantastic. The Lava Flow was a whole new creation I had never heard of before. It was made of your typical Piña Colada but then stirred into it was a mash of fresh strawberries. OMG delicious.
A carafe of Mai Tai… When in Rome!
Take a scenic drive. The most popular drive on Maui is the road to Hana. The Hana highway is 52 miles long and is made up of 620 curves and it crosses over 59 bridges. Said to be one of the most scenic drives in the world it can take you anywhere from 2 to 4 hours to complete depending on how many times you stop. I didn't have a chance to drive the road to Hana while I was there but hopefully I'll get to go back someday to do just that.
The drive I did get to do however was "the drive around West Maui". West Maui only has one road that circles around it with no other way to get to where you need to go. The drive is made up of two highways that join with each other, the Honoapiilani Highway goes around the bottom of West Maui which meets with the Kahekili Highway that runs along the top. The Kahekili portion of the road is known to be very dangerous and most people only suggest locals drive it. However it is so amazingly beautiful! Be warned that many car rental companies don't suggest you drive this road and if something were to happen they might not cover it on their insurance. At times the road is so narrow with cliff face on one side and a big drop on the other that there is hardly enough room for one car let alone two. A few times I actually had to reverse on this narrow road to let other cars pass that had the right of way. Trust me from experience the locals will definitely let you know when they are the ones with the right of way.
Enjoy the BEST banana bread on the PLANET. Banana bread is a popular food that people sell on the side of the road in Maui along with pineapples of course. You will see signs for it everywhere. If you drive the Kahekili highway you will see bright green signs for the BEST banana bread on the PLANET. You must stop here and buy the banana bread. It was fantastic and I'm pretty sure its a FACT that it is the best banana bread on the planet. Also you will need to give your knuckles a break at this point from clenching onto the steering wheel so hard.
Julia's the BEST banana bread on the PLANET. A tiny little green treehouse like shack on the side of the road in West Maui sold to me by this girl. It was still hot, fresh and DELICIOUS.
Have you ever been to Maui? Are there are any tips that I may have forgotten? Please leave them in the comments below.
My trip to Maui was provided by the Maui Visitors Bureau. As always all opinions and views expressed are my own. At no point did they ask me to guzzle many Mai Tais for research or become a pineapple/banana bread food tester.